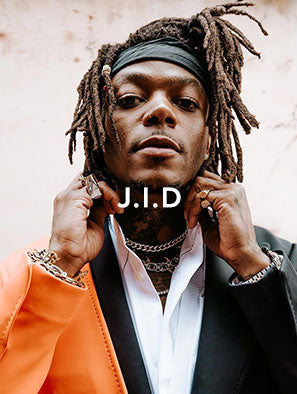 Rapper and singer J.I.D was photographed by Vogue on the red carpet of the Grammys in 2020, wearing the Armature 300 WIN Single Bullet ring and 300 WIN Double Bullet ring as a pinky rings.

Named one of the best dressed that evening, the fashion critics were surely taken by the way he mixed our classic design with a striking black and orange RichFresh suit.

To replicate the look, pair any of our Bullet rings with bold, vivid clothing. This will contrast the brutal nature of our spent casings with fun, playful colours.
BUY NOW