Explore where we source our fabrics from, and why we chose them
When our creative director Sara Angelucci chooses a fabric to work with, only the highest quality will do. She sources the finest materials for Armature designs, often directly from the origin location or as close to the source as she can. This editorial, Blending In The Hills showcases some of the most beautiful fabrics we have used to date, including French lace and Italian houndstooth. Here, we dive into the history of these fabrics and how Armature uses them today.
The history of French lace
French lace has been the most sought after lace in the world since the 17th century. More than 100 schools were set up in France during this period to teach villages the art of lacemaking and since this time, French lace has been highly regarded as the most delicate and intricate of all. It is never scratchy or irritating on the skin, and has no synthetic or plastic-like feel. Instead, it sits beautifully on the body offering a suggestive peek of skin without ever being too revealing.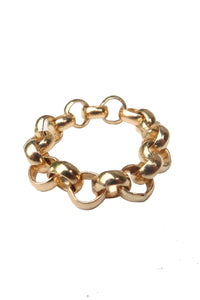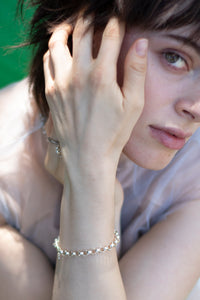 Silver Chakra Bracelet
Buy Now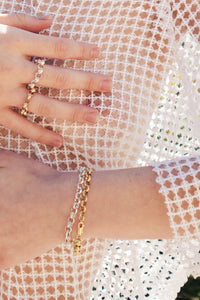 Gold Chakra Bracelet
Buy Now
A rich legacy
Our Blue Lace Asymmetric Maxi dress in this photoshoot is made using a cornflower colored French lace, from one of the oldest lace mills in the world. This mill has such a rich history spanning many years. For decades, they were renowned as one of the finest lace makers in all of France and even had to bury their lacemaking machines, known as a Leavers looms, during the Second World War so they would not be taken away by the nazis. The mill still uses the same machines to this day to keep the quality at its highest. They weave thousands of miles of thread using shuttles and cast iron to create some of the daintest and most desirable lace.
Italian craftsmanship
The houndstooth train of this dress is made from a beautiful fabric sourced in Prato, Tuscany, Italy. The Italian town is renowned worldwide for being a major player in the textile industry, and for decades it has been a hotspot for producing high quality fabrics. This particular material was hand selected from a sample by Sara herself in New York City, who then had it custom dyed and imported to California specifically to make this garment. The fabric has been hand pleated and stitched onto the dress with ultimate precision.
Own the art
Sara's speciality is bespoke dresses, and just as she created this blue lace maxi dress prototype, she can sew a customized rendition specifically for you. The garment will use the same fabrics as the ones seen on the model, but by working directly with Sara you can have a recreation that is made to measure and completely tailored to you. Think of it as a wearable piece of art, a one of one. A dress that noone else in the world will own. Discover the product listing here, and experience the decadence of French lace and Italian houndstooth first hand for yourself. There's nothing quite like it.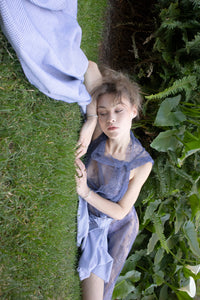 Blue Lace Asymmetrical Maxi Dress
Buy Now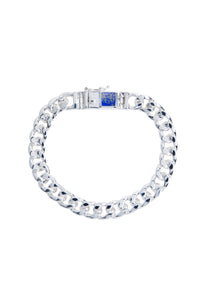 Lapis Lazuli Bon Bon Chain Bracelet
Buy Now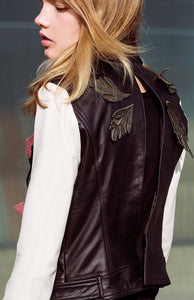 Split back jacket with floral appliqué
Buy Now