Serving up circular fashion that gives you that cool feeling of wearing one-of-a-kind, Shop DonVintage is on a mission to diminish the stigma of " the old is out". With downtown Los Angeles' fashion district as the backdrop photographer Sean Martin captures the beauty of the city that inspires our Armature jewelry collections. Vintage shop owner Emma DonLucas curates one of kind gently pre-loved ensembles laced with our handcrafted jewelry as the finishing touches.
"Knowing that shopping like this, you will NEVER find someone else with the same piece. It's honestly the coolest feeling."
Armature Gray Diamond Coordinates Choker and Gray Diamond Astral Earrings
We discuss all things vintage with female entrepreneur @shopdonvintage about the secrets of thrifting, sustainability, green washing & changing the narrative around second hand clothing.
What interests you about vintage clothing?
I think for me, finding a cool "new" second hand piece is always like finding a rare gem. When you shop secondhand, you have a chance at uncovering and reviving what was once lost.
What is second hand fashion?
Second hand fashion is really, just that. "pre-loved/owned/worn", but no matter the history, to me, they're all still new if they're coming to me for the first time. I think that's how people should see these items. In regards to what's sustainable and ethical, there's so much clothes already out there- a true surplus being dumped into landfills annually because of over-production from brands. I feel, unless you have to buy new, you should try to buy second hand first.
How do you describe your brand aesthetics?
I think I try to find a little something for everyone. You have unique statement making items, and those that you can find yourself wearing often or with so many different styles. I know my taste can range from day and night so I figured, maybe there are others like that as well. Along with finding different styles that can work for many, it is important to me to make sure my pieces can range various sizes as well. All and all, I just want people to find something special for themselves and have the joy in responding, "It's vintage." when asked about their looks. How do you remove the stigma of vintage being a hand me down, and reveal just how cool, special and unique vintage can be? Knowing that shopping like this, you will NEVER find someone else with the same piece. I've shopped secondhand for over a decade and I have yet to see someone sporting anything I have. It's honestly the coolest feeling.
Gold & Silver Ombre Box Chain Necklace
Buy Now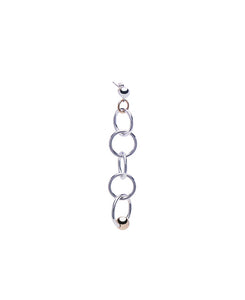 Suspension Earrings - Long
Buy Now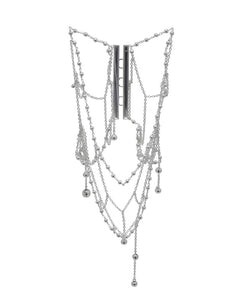 Coordinates Necklace
Buy Now
Armature Orbit ring and mini Orbit hoop cuff earrings
When you shop for vintage, do you purchase based on trends or just anything that grabs your eye . Do you look for designer, quality, fabric, what catches your eye?
Setting out to shop vintage I always try to list out what to look for to prevent over purchasing because once you're in and around such amazing pieces, very easily could you get carried away- definitely speaking from experience there, but yes, I try to stay as organized as possible. I know walking into shops can feel overwhelming for some at first, but keeping a list really helps to keep your focus and most times, I come out finding exactly what I was looking for. Also, once I'm in, and if I have time, I'll go piece by piece, you never know what you're going to find. I try to take a look at labels in case I'm ever blessed with finding something designer and if I'm interested in something, I'll always check the garment tag for the fabrication. The most special pieces for me are always natural fibers like silk.
Armature layered Gray Diamond Celestial Necklace & Gray Diamond Lunar Eclipse Hoops.
Do the clothes you find need repairs?
I'd say 8 times out of 10, the clothes are perfectly fine. Seriously, all it needs is a throw in the wash and it's good as new! I've definitely purchased pieces that needed a little TLC like getting a stain out or a button resewn, but that's usually it.
Do you think in our era of being woke - we are seeing citizens of the world spend their money at sustainable fashion brands or are we continuing on a path of irresponsible purchasing?
I know that there are brands out there that are working hard to bring us fashion and in a TRULY SUSTAINABLE way. Whether it's upcycling used clothes to create something fresh and new, or reselling second hand pieces instead of letting them go to landfills, or brands that are producing small and only making what they need. There's a way to do this right. Unfortunately, this also comes with brands slapping "eco" and "sustainable" on their pieces and calling it a day while not changing anything to improve the current situations. I am hopeful for true change as things like social media help bring these corruptions to the light. It's great to see more people realizing and sharing info like this.
Tips for a novice thrifter?
Write a list for yourself of what you're looking for and always leave shops looking better than when you got there.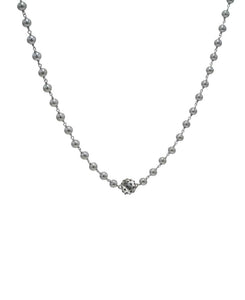 Gray Diamond Zodiac Rosary Bead Necklace
Buy Now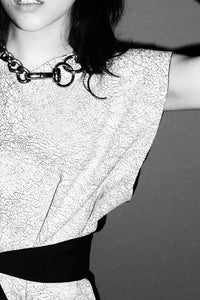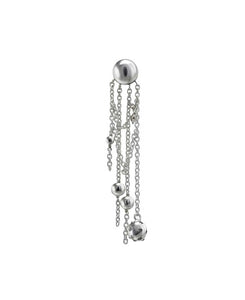 Armature Chain Choker
How to care for your items once acquired? What's your vintage find protocol?
Yes, as soon as I get home I start going through every hang tag to read the wash instructions- I can't stress enough how handy those can be, then I either hand wash, throw in the washer, or take the pieces to the cleaners.

And just like that, those pieces are good as new!
What are the best vintage staples to add to our wardrobes?
Accessories. A little touch of a unique accessory can go a long way for an outfit and they're usually the pieces I can get the most use of.


Layered Gray Diamond Zodiac Rosary Bead Necklace
Tell us about the mission behind your brand?
Being involved and loving the fashion industry is so hard when you realize just how much harm it can do, so it was an easy decision to choose second hand/vintage for the pieces in my shop.
I'm trying to reduce fashion waste all while changing that stigma that comes from buying "pre-used".
At Shop DonVintage, we're giving these pieces a second life of style with a new owner.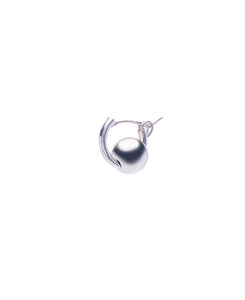 Orbit Hoop - Small .5 X .5 X .5
Buy Now
CELESTIAL NECKLACE
Buy Now
LUNAR ECLIPSE HOOP
Buy Now
Gray Diamond Zodiac Rosary Bead Necklace
We've included a few of our favorite Los Angeles thrift stores to find inspiration and one of a kind vintage.
American Rag
Wasteland
Buffalo Exchange
The way we wore
Jet Rag
Decades
What goes around comes around
World of vintage t shirts