Gustav Klimt's muse was a fearless trailblazing fashion designer, collaborator and a hidden gem whose kaftan designs intertwined with his paintings.
Whimsical patterns and intertwined silhouettes in stellar colors, you can get lost from the comfort of your home gazing upon Gustav Klimts paintings. No matter how many times I admire his artwork- I see something different. His vast collection is an endless source of inspiration for me. The colors, texture, prints and clothing in Gustav Klimt's paintings inspire our whimsical Armature bespoke collection.
"I see something different, his artwork is an endless source of inspiration for me.."
Left: Armature Organza Puff Sleeve Sketch Dress Right: Armature Inspiration, Portrait of a lady in black by Gustav Klimt
Gustav Klimts paintings inspire our whimsical Armature bespoke design
When I saw Gustav's late unfinished artworks in New York City at The Neue Galerie in 2018 they offered an unparalleled insight into Klimt's working method. In both, he initially sketched an outline of the composition in charcoal and then painstakingly filled in the details with oil. The Unfinished works expose the artist's process, the underlying sketch and layers to his paintings were revealed like a secret. But there's more to his paintings than what meets the eye.

He was in love with his muse, collaborated with her, painted her and was inspired by her Kaftan printed empire waist designs recreated in his paintings, yet despite her contribution to women's fashion her legacy remains a hidden gem that lies within Klimts paintings.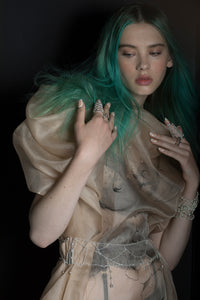 Silk Organza Painted Maxi Dress
Buy Now
Klimt was the leader of the Vienna secession movement. Vienna was a booming bohemian city during Klimt lifetime rich with decadence and artistic experimentation propelled by young artists and intellectuals like signmund Freud, architect Otto Wagner and composer gustav Mahler. The city's government and traditional art establishment railed against this avant-garde cultural movement.
Gustav Klimt
Klimt would overflow the canvas with shapes and imagery- not by random but he did this to place emphasis on his neglect towards realism. He was very interested in the human evolution within the womb. Gustav Klimt drawings expressed a sexual side using ancient greek mythology to embed his deeply erotic nature. The principles held by the art elite at the time viewed painting as only to be used in representing the three dimensional reality onto canvas with utmost precision. Klimt opposed that academic realism is not enough to describe the vastness of the human experience like emotions and imagination, placing importance on the need for more freedom in painting what does not truly exist.

Klimt's work is significant within the art world because he ushered in a new type of art led by expression and emotion paving the way for Vienna secession. His gold period work and structured landscapes foreshadowed art nouveau and cubism.

Gustav Klimt whimsical patterns and use of color brought me to inquire into his inspiration, collaborator and life long partner, Emilie Floge.
Emilie Floge in her own designs.
Prior to Coco Chanel, there was Emilie Floge; a fashion designer who was a fearless trailblazer. In Gustav Klimt's iconic painting The Kiss, a couple embraces and their gold leaf flecked robes swirl into scintillating patterns. Many believe this couple is Emilie and Gustav, who decades long loving romance generated bold, envelope pushing creative collaborations.

As Gustav steamed ahead into the spotlight, Floge a successful businesswoman and fearless trailblazing designer, remained a hidden gem- largely unknown and unrecognized in fashion history. While Coco Chanel opened up her first store in 1910, Floge had already been producing cutting-edge designs in Vienna for a few years. Carving out new roles for women in the industry with her empire waist garments, wide sleeve and intricately detailed panels inspired by Hungarian and Slavic embroidery; making a departure from restrictive corseted dresses that were the staple for the time.

In 1904 Emilie and her sisters opened the fashion house on Viennas bustling Mariahilfer street, a highly unusual venture for 3 unmarried sisters to take on for the time period. Klimt and Floge's relationship was very unusual, they were romantic partners that never got married nor had children, and maintained a stature of independence unprecedented for the time.
Emilie Vogel in her designs
Floge eclectic love of folk costume and Japanese textiles gave her foresight when rethinking women's dress, which has now linked her to some of the early feminist circles of Vienna. Floges signature style, the reform dress, was a powerful new statement of revolutionary modern values. Loose, flowing and bold, it was a fashion that rejected tight laced closets of historicist Vienna. It celebrated physical freedom, self expression and closeness to nature.
Her fun approach to retail design set a standard for contemporary concept stores like Colette in Paris, 10 Corso como in Milan and Dover street market in London. Her three decade long years in the business was a testament to her smarts, wide client base and international audience that included many American women. She used her logo with a checkered border-a very art nouveau style- on invoices and labels that turned her store Schweitzer's Floge into a easily recognizable brand.

Gustav and Emilie would design clothing together, and gustav would photograph them. In a portrait Gustav painted of Emilie , Klimt depicts her as an elegant woman dressed in a dazzling, floor-grazing dress of her own design. The painting's three-quarters view is conventional, but her dress is cut in a rebellious style.

Gustav has been captured wearing a robe that is consistent with his painting style, which was elaborate and lavishly patterned. So it is hard to discern who designed what when the two's artwork was so intertwined, and they collaborated so well together.


" It is hard to discern who designed what when the two's artwork was so intertwined, and they collaborated so well together.."
Left: Dress designed by Emilie Vogel Right: Emilie Vogel
When the nazi invaded Austria, in 1938 most of Floge's clients where Jewish and had fled while her store amongst all others was forced to close. Though Floges history has been hidden, a little bit of her design lives on through Klimt's art.
Emilie Vogel painted by Gustav Klimt