Discover our new styles that combine spiritual stones with symbolic meaning
I n a disconnected and divided world, we still have the power to come together and be one. This is the sentiment behind our new Bon Bon collection. Bringing together precious gemstones and sterling silver, this collection is designed to be worn and enjoyed together. It is comprised of three separate chain bracelets which are beautiful on their own, but even more striking when clasped together to create one incredible chain necklace. Adorned with precious gemstones, these are pieces with innate power


In the details
While the thick sterling silver curb chains may at first make this collection look quite modern, look closely at the natural stones and you'll see traditional artisanal technique. Each stone has been hand selected and cut before being inserted into the piece. This inlay technique requires the silver to be carved out to the exact shape of the stone, with the gem then carefully inserted inside for the perfect fit.
Choose your path
There are three key gemstones in this collection, malachite, lapis lazuli and tiger's eye, and each one holds a unique meaning and purpose. If you are interested in one of our Bon Bon chain bracelets but can't decide which stone to choose, we suggest following your intuition and selecting the piece you are naturally drawn to. If you're feeling unsure or are looking to purchase a gift for someone, our mini gemstone guide can help.
Lapis Lazuli - A vivid blue stone detailed with flecks of gold, which has been loved by artists for thousands of years. The perfect tool for opening your throat and third eye chakras. A symbol of self-expression. The perfect gift for anyone who wants to make a divine spiritual connection and be true to themselves.




Tiger's Eye - A golden reddish-brown stone with a silky lustre. Known for its ability to restore harmony and balance. Wearing it can help increase feelings of self-confidence and inner strength. A beautiful gift for anyone who's going through a hard time and wants help with releasing fear and improving resilience.




Malachite - A deep green stone detailed with a stripe-like pattern. Often referred to as 'the power stone', it is incredibly effective at removing negative energies from spaces and people. Wear it to keep your heart chakra open. An ideal gift for anyone wanting protection or to become more receptive.




Malachite Bon Bon Chain Bracelet
Buy Now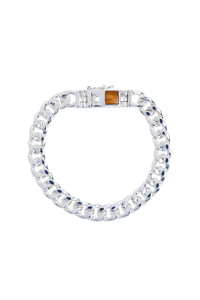 Tiger's Eye Bon Bon Chain Bracelet
Buy Now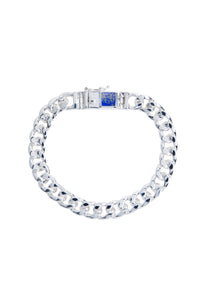 Lapis Lazuli Bon Bon Chain Bracelet
Buy Now

The power of three
If you can't choose a favorite gemstone, wear all three with the Tricolor Bon Bon Chain Necklace. Made of three Bon Bon bracelets that have been connected together using the unique box clasp closure, it's the ultimate symbol of togetherness. A beautiful way to wear three of our styles in one.

Style it your way
Each of our bracelets can, of course, be worn alone, but we also think they look incredible stacked together. You can also connect them with each other to create necklaces of varying lengths. Or why not hang them from your bag as a luxe charm, or from your belt loop to create a waist chain? When it comes to Armature there are no rules. Always wear it in the way that feels best for you