Learn the story behind our bestselling jewelry style that's made from spent shells


T he bullet ring is an Armature signature. It is one of our most beloved designs and has been worn by the likes of Gigi Hadid, Machine Gun Kelly, Travis Barker and Sofia Richie, as well as hundreds of clients around the world. Anyone who wears this style is immediately drawn to its slightly macabre origin and the idea that even in death and destruction, there is beauty. Here, we explore the origin of the design, how it came to be a cult classic and the special techniques required to make such a unique piece.
The inspiration
Armature's creative director Sara Angelucci created her first bullet ring in 2010. At the time she was a member of an artist warehouse collective in Inglewood, California and would create clothing and paint while other artists around her would paint, woodwork, and weld. It was a period of immense creative freedom, and while her friends (Elliott Agnew, Joey Wolf, Kour Pour, Corey Thering and Alex Becerra) were making sculptures by welding metal, Sara was influenced to try her hand at the material too.


Cityscape, Oil on canvas. Sara Angelucci, 2011.
Sara Angelucci, 2011. Inglewood California.
The idea
Inspired by the smooth sculptural lines of artists like Henry Moore and Anish Kapour, as well as the beauty and brutality of the wild wild west, she sourced spent bullet casings from abandoned fields in New Mexico and Northern California and vowed to turn these markers of violence into something more refined. To her, the bullets remaining in the ground long after their intended purpose represented strength, fortitude and resilience, and so she had the idea to repurpose the spent bullet casings into beautiful rings. This way she could give a second life to these forgotten items.
Armature LC80 Bullet cuff, Desert X , Mirror House by Doug Aitken. 
The creation
Taking the spent 300 WIN and .233 Remington shell casings to her LA studio, she used the ancient art of lost casting to create a pure brass mold. She then soldered the casing molds onto hand-sculpted bands that wrapped around the finger. Once this process was complete she polished the designs and had them plated in precious metals like gold, rose gold and silver. And so a jewelry legend was born.
Jewelry District, Downtown Los Angeles. / First Edition Authentic Bullet Rings 
The rebirth
From the moment the Armature bullet ring collection launched it turned heads, and it still does to this day. A unisex style that transends trends, it is an incredibly versatile and wearable piece of art, that has graced the pages of Cosmopolitan, Rogue, Risbel and Billboard Magazine.


Fetty Wap wears the 300 Win Double bullet Ring in silver. 
The legacy
There have been dozens of variations of Sara's iconic design over the years, with many still available today. Each and every ring has a unique inscription and is completely one of a kind. The finishing touches of each style are always different, some have special engravings or gray diamond details, but all share the same message: rebirth, reinvention and reimagination is possible. Just because you believe you may have been created for one purpose, that doesn't mean you change your fate and transform into something completely different.

Rewrite your own story and shop for your favorite Armature bullet ring now.


Anniversary His and Hers, Private clients.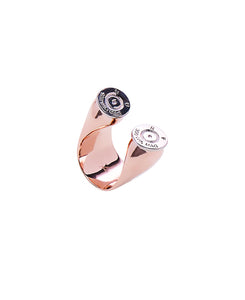 300 WIN DOUBLE BULLET RING - TWO TONE
Buy Now
Gray Diamond LC80 Bullet Cuff - Two Tone
Buy Now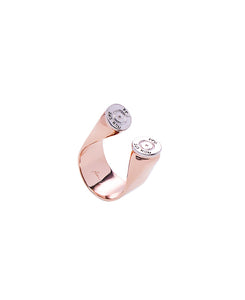 GRAY DIAMOND 223 REM DOUBLE BULLET RING- TWO TONE ROSE GOLD AND SILVER
Buy Now