Celebrate unisex jewelry in all its forms this Pride month
Armature jewelry has always been unisex. For anyone and everyone. We've never subscribed to tradition labels or stereotypes and have always encouraged our clients to wear our jewelry their way. This Pride month we wanted to share a series of editorials that celebrate love in all its forms. We believe inclusivity and equality should extend all the way from legislation and politics, down to fashion and getting dressed. Real love is sharing your Armature jewelry.
Gender Neutral Jewelry Designs
Our Barbed Wire collection is one of our most iconic, partly because it is an extremely original design but primarily because it is completely genderless. Bracelets and necklaces from the collection have been worn by Travis Scott, Nicki Minaj, Billie Ellish, Heidi Klum and Miguel to name but a few. The brutal but beautiful style is a little bit punk rock, a little bit Roman Gladiator and a lot of attitude. It's less about your gender and more about your personality. If you have a fearless spirit and aren't afraid to speak your mind, you can wear our Barbed Wire collection. Swap Barbed Wire cuff bracelets with your boyfriend or girlfriend. Wear the Barbed Wire open collar necklace to the club as a headpiece, and let your lover wear it home as a necklace the next morning. And if your single, love yourself, protect your heart and put on your favorite Armature jewelry piece to attract your soulmate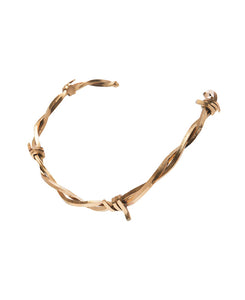 Barbed wire open collar necklace - Polished Brass
Buy Now
Couples Jewelry To Share
His and hers jewelry, his and his jewelry, hers and hers jewelry. The Bon Bon collection has it all. We even have three different jewelry designs, so if polyamory is more your thing you're catered for too. The three gender fluid curb chain bracelets can be worn alone or connected together to create an oversized chain necklace for you and your lover to share. Alternatively you can choose the Bon Bon waist chain, which will be made bespoke to your waist size. Wear it yourself or gift it to your lover to wear as a necklace with a secret meaning only you know, so they can always keep you close to their heart. You could even get experimental and try bringing the Bon Bon to the bedroom, as seen here.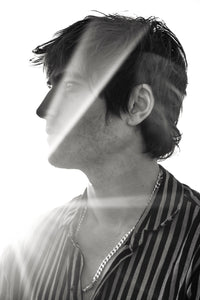 Unisex Tricolor Bon Bon Chain Necklace
Buy Now
Unisex Jewelry For Unity
Armature jewelry pieces can be worn as an alternative to engagement or wedding rings. You choose your own narrative in your life, so why not make your own traditions too. One of our signature Bullet rings would make a striking alternate engagement ring for men or women. They're the perfect symbol of longevity, beauty and strength, three things all marriages should have. Alternatively, if you'd like something extra special, why not have our Creative Director Sara Angelucci make something bespoke. If you've seen an Armature jewelry piece you like, but wish it had diamonds or extra gemstones to make it really stand out and wow your fiancé, get it touch. Reach out to hello@shoparmature.com with details about the ideal Armature piece you're looking for and Sara will try her best to make your desire a reality. She believes nothing says true love quite like the gift of jewelry.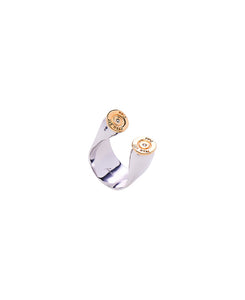 GRAY DIAMOND 223 REM DOUBLE BULLET RING - TWO TONE
Buy Now