Embrace new evening looks with our latest editorial


T he time between twilight and midnight is always magical, and it's this period of the evening that has inspired our latest editorial, Night Vision. When the sun sets, inhibitions are lost, formalities are forgotten and true selves emerge from the shadows. It's the perfect time to experiment with new fashion and jewelry pieces and really find out which styles speak to you. Scroll on to discover the three Armature looks we've created that will take you from sunset all the way to sunrise.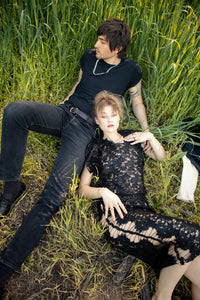 Delilah Embroidered Lace Skirt
Buy Now
Sun Down
Meeting at golden hour to watch the sun set? Our metallic silk floral origami top and embroidered lace skirt are the perfect pieces to take you from day to after dark. They're lightweight and loose fitting but still incredibly flattering on all body shapes. They look best teamed with our newest rendition of the classic Tear Drop bag.

This new style has the same slouchy silhouette and lambskin and cowhide construction as our original designs, with the addition of a carabiner chain. This strap gives you more ways to wear, from over the shoulder to around the waist. Ideal if you want to go from watching the sunset to hitting the dancefloor. The finishing touch to this outfit? The Armature Barbed Wire choker necklace. It adds a raw edge to an otherwise elegant look.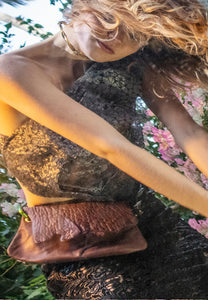 Calf & Lambskin Teardrop Shoulder Bag - plum
Buy Now
Dinner Date
Going out for a drink (or two) with someone special? Our embroidered laser houndstooth dress will instantly impress. This one-of-a-kind design was created using unique custom designed fabric imported from France, but if you'd like something similar you can get in contact with our creative director Sara Angelucci directly and work on a bespoke piece for your body shape. Nothing compares to wearing a piece that has been made specifically with your measurements in mind.
Unisex Jewelry For Unity
Armature jewelry pieces can be worn as an alternative to engagement or wedding rings. You choose your own narrative in your life, so why not make your own traditions too. One of our signature Bullet rings would make a striking alternate engagement ring for men or women. They're the perfect symbol of longevity, beauty and strength, three things all marriages should have. Alternatively, if you'd like something extra special, why not have our Creative Director Sara Angelucci make something bespoke. If you've seen an Armature jewelry piece you like, but wish it had diamonds or extra gemstones to make it really stand out and wow your fiancé, get it touch. Reach out to hello@shoparmature.com with details about the ideal Armature piece you're looking for and Sara will try her best to make your desire a reality. She believes nothing says true love quite like the gift of jewelry.
We've teamed the dress with the Armature Double gold hoop earrings and our Shield clutch, which has been hand welded in Venice Beach from reclaimed sheet metal. It has a soft interior clutch that can be magnetically attached inside or outside the metal, so you can switch up your look if your date goes so well that you decide to hit a club next.
Repurposed Metal Shield Clutch Bag
Buy Now
Late Night Drive
Not sure where the night is going to take you? This final outfit is ready for anything: a late night sound bowl experience on the beach, a 24 hour rave or driving through the night to another state. It starts with our Armor metallic bodysuit worn as a futuristic base layer, followed by our stretch silk tulle tunic cloud top layered on top. The look is completed by our unique vivid blue rope harness. This harness has been hand sewn directly onto the dress to create a 3D silhouette that both accentuates and distorts the natural shape of the body.
Discover all of these styles and many more, by shopping New Arrivals.

Interested in a bespoke creation? Connect with our creative director Sara and inquire about personalized services here.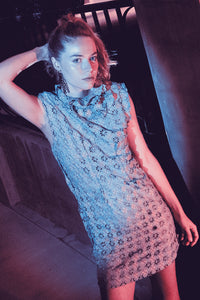 Laser Cut-Out Floral Shift Dress
Buy Now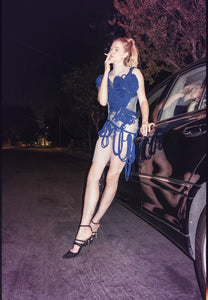 Rope Harness Tulle Shift Dress
Buy Now