Embrace sugary sweet jewelry this summer
F or our latest editorial, we scooped up the delicious Donut Friend to bring the idea of Sweet Summer Fun to life. We decided to create a shoot with three tasty Donut Friend treats: the Teagan and Sara, the Husker Blu and The Strawberry So Far. They're just as delicious as the Armature jewelry we've paired them with. Now, scroll down to discover what sweet jewels you should wear this summer and discover the illustrated outfits our creative director Sara Angelucci has created to go with them
The Carabiner Necklace
This summer it's all about clashing colors, which is why the Carabiner necklace brings so much joy. It's handmade from recycled industrial size carabiners and adds a splash of color to any outfit you pair it with. The contrast of the utilitan structure and fun, playful colors is reminiscent of the way that children use anything and everything.
to dress up. They don't see boundaries or labels, everything is wearable art! We want you to wear this piece to reconnect with that playful spirit. Plus, by reusing a functional item as a fashion, you're helping to reduce the impact of waste on the planet too.

Wear with: Sara has drawn a vivid turquoise top to accompany this piece, but anything with an off-the-shoulder neckline will let you really show it off.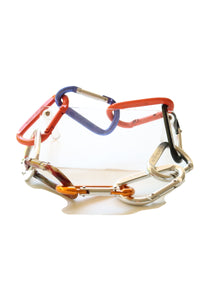 Carabiner Necklace
Buy Now
The Bon Bon Collection
Everyone is drawn to colorful gemstones, which is what makes the appeal of our Bon Bon collection so universal. The small square-cut stones sit neatly on box chains like little pieces of candy, so this summer we think you should load up on these sugary sweet styles. Layer the Lapis Lazuli, Malachite and Tiger's Eye bracelet on your wrist and embrace maximalism. Connect all three bracelets together to create a Bon Bon necklace, a modern, luxury version of those edible candy necklaces everyone used to go crazy for in the '90s.

Wear with: Burnt orange contrasts beautifully with all three coloured gemstones in the Bon Bon collection, which is which Sara chose this color for her sketch.
The Zodiac Rosary Necklace
A modern reimagining of a classic Catholic jewelry piece, this style instead has an imaginative and intergalactic edge. It encourages the ideas of exploration and adventure, something we all should be doing more of this summer. Add this piece to your summer outfits as a reminder to always be curious and explore what's out there. Let the gray diamonds sparkle beautifully as the light hits them, so they can also excite anyone who lays eyes on them.

Wear with: Sadly the patterned lace cowl neck top Sara has drawn is not for sale, yet! But any tee with a similar neckline will show off this beautiful rosary style necklace.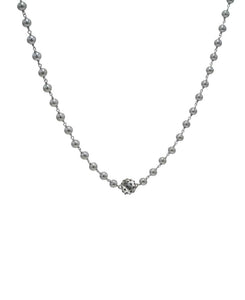 Gray Diamond Zodiac Rosary Bead Necklace
Buy Now
Discover our sweet summer styles and more, by shopping our New Arrivals selection.